About Us
I have been building custom fishing rods since 1985 for anglers who have an eye and a desire to own the very best in craftsmanship and quality. I was trained by such mentors as Dale Clemmons of Allentown, PA, who was a forefather of custom rod building, and Vince Mascetti of Kitty Hawk Bait & Tackle. Having been trained by the best, I have learned how to build rods that combine fine engineering and durability, along with detailed craftsmanship.
I grew up fishing around the Chesapeake Bay and the Atlantic Ocean and I know what a fisherman requires for catching the predators that roam local waters. I have also run and worked on a boat at Ocean City, Maryland. I have fished the Atlantic Gulf Stream for blue marlin, white marlin, sailfish, bluefin tuna, yellowfin tuna, wahoo, and dolphin. I know the power and abuse that offshore fishing rods can be exposed to while out on the water. That's why I pay extra attention to building a durable fishing rod that can withstand many years of the strongest abuse.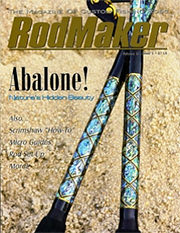 Always experimenting and fine-tuning my craft, I recently developed a unique process for bending abalone. The resulting fishing rods are truly unique while offering a stunning display of the multiple colors of the sea. They've become a real favorite and were recently featured in RodMaker Magazine.
My passion for fishing and the craft of rod building comes through in every rod that I build. I pride myself in handcrafting rods that are beautiful, precision-tuned and will withstand the test of time. You can find my custom fishing rods on the East Coast, West Coast, Gulf of Mexico, Caribbean, South America, and even Hawaii.
If you want a beautiful, fine-tuned, custom built fishing rod, please look over the Web site site and feel free to contact me about any questions that you may have.
For a custom fishing rod price quote please call or contact us.
Top of Page